besesaka and delegate a/s sign a long-term partnership agreement to change realities for children in bukom, ghana, through boxucation
Besesaka, established in 2019, is changing the realities of children in Ghana through boxing, education and leadership development. Besesaka's long term aim is to establish a Boxucation academy, where boxing is as important as education, in Bukom, Ghana by end of 2023. Until that time, Besesaka provides educational scholarships to boys and girls, who love boxing and are great at it, have excellent academic level and demonstrate a great character. The sponsorship's aim is to ensure that the children, who due to their boxing talent face pressure to drop out of school, finish at least high school, while at the same time developing their boxing talent.
Delegate A/S is one of the leading digital transformation consulting companies in Nordics, with head office in Virum. Delegate's corporate culture is built around strong set of values and the company has recently become part of the Broad Horizon Group, with head office in the Netherlands, and together they are embarking on their next chapter. As part of that journey Delegate and Besesaka are launching this long-term partnership.
The partnership starts with the organization of the second annual youth boxing tournament in Bukom, Ghana. Nine (9) successful participants, boys and girls, will join last year's recipient of the Besesaka scholarship, Rahman Ablorh, and receive an educational scholarship that will provide them with high level education while they continue their boxing careers. This marks a significant expansion of the Besesaka scholarship program and continues to build the student base for the future academy. The partnership further includes a 10-week Boxucation camp program for 50 boys and girls starting from June 2020.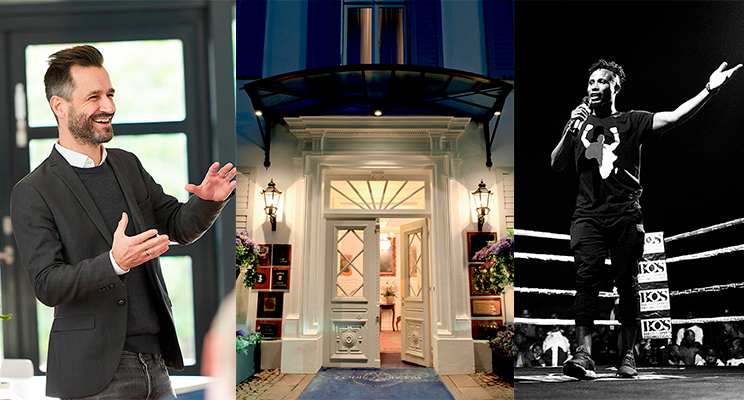 Jakob Schou, CEO of Delegate A/S says: "Besesaka and Delegate met at a time when both organizations are embarking on their next chapter, working hard to meet ambitious targets. Geographically and culturally in two very different settings, in Ghana and the Nordics, but at the same time by sharing common values of unity, passion, unbreakable spirit, and the wish to give back. Besesaka is a joint project, where we share a joint vision and an ambition to create a sports academy in a part of the world where education is a scarce commodity. We saw mutual opportunities in entering a partnership that extends far beyond Delegate just being a sponsor, and we are delighted to involve Delegate personnel in the partnership through character development course run by Besesaka and through participation in the summer camp in Ghana, where we can help in the kids' development into digital citizens."
We will develop better leaders
James C. Nortey, founder of Besesaka says: "We are delighted that the partnership with Delegate A/S will allow Besesaka to expand the scholarship program significantly, ensure the summer camp and the annual youth boxing tournament for the coming years, while the preparation for the launch of the Boxucation academy is ongoing. This partnership will have a profound impact to the scholarship recipients, their families and the local community, and will play a role in changing the perception of importance of education. Through education, we will develop better leaders and our world will become a better place, one step at a time. The recipients of the nine new scholarships will be selected following the youth boxing tournament organized on December 26th, 2020, and selection will be based on boxing and academic merits, together with an evaluation of the overall commitment to the program."
Chris Kyriakidis, Chairman of Besesaka says: "Globally, 2 out of 10 kids do not get education and 3 out of 10 kids who go to school do not learn much. These are scary statistics, and it is easy to agree that we should work together on changing them. I am proud of the development of Besesaka during its first year of activities, and the partnership with Delegate will play a significant role in Besesaka reaching its long term objectives, and expanding its impact on the local community in Bukom."
"We are proud to be part of this project that is changing the realities of children in Ghana through boxing, education and leadership development. Please give med a call on +45 23 33 75 00 if you want to hear more about this project."
– Jakob Schou, CEO hos Delegate