New system ensures greater transparency in BRFkredit's archiving
New system based on Microsoft Dynamics 365 ensures greater transparancy in brfkredit's archiving.
New system replaces mainframe-solution

BFRkredit's new system, which goes by the name Ejendomsmappe Track & Trace System (ETTS), replaces the mainframe solution that BRFkredit has thus far used to administrate more than 1.3 million physical archive folders. These ejendomsmapper, or real estate folders, contain information about real estate that BRFkredit is involved with either through mortgages or offers.
BRFkredit is a Danish mortgage provider that has offered financial solutions in the Danish mortgage banking sector (realkredit) since 1797. Their history stretches all the way back to the first credit institution in Denmark. Their primary purpose is to offer loans for real estate to private customers, business customers and social housing customers.
A flexible business platform with Microsoft Dynamics
The new ETTS system is based on Dynamics CRM, which is a so-called xRM system. In other words, it is a CRM system which is also used to handle other entities than customer information, which in this case entails managing and administrating BRFkredit's real estate folders.
The Dynamics CRM platform was chosen because BRFkredit already uses CRM within the organisation. Therefore, it was also very important for BRFkredit that the solution would meet a number of internal guidelines for development. The new system is designed in a way that is easy for BRFkredit to maintain and which allows it to be linked to BRFkredits other systems.
Delegate's consultants managed to develop a solution where the entire physical part of the archiving system, such as scanners and barcodes for the 1.3 million property folders, was left unchanged, which BRFkredit highlights as an extremely valuable part of the project.
High degree of user involvement

Another valuable aspect of the new ETTS system is that it's very accessible to users. The system's user group covers five departments and approximately 300 individual users, some of whom use it several times a day while others on a weekly or monthly basis. That is why a lot of emphasis has been put on making the system intuitive and simple. This was ensured through a high degree of user involvement throughout the whole project, which has created a system adapted to BRFkredit's users. According to Jesper Skau Kielberg, Section Head for Cobol development at BRFkredit, this part of the process was began very quickly thanks to the technical and interpersonal skills of Delegate's consultants.
Section Head of Standards Development at BRFkredit, Lene Haunstrup Jensen, says that users are very happy with the system. Among other things, they say that it has become much easier to access data reports and that the new system is far more transparent. This has given the users a better understanding of the importance of data discipline.
The front page gives staff a simple and clear overview of their real estate folder activities
A cumbersome data migration project
The greatest challenge about the solution has been carrying out a massive data migration. The huge volume of data stems from the hundreds of thousands of real estate folders, but also because the archiving system is based on changes to the folders' physical location being registered and archived. This makes it possible to track the folders back through time and in that way ensure that any given folder can be found. The development of this system has thus resulted in having to migrate data from the 1.3 million folders as well as 4.5 historical placements of these folders. This massive migration was necessary in order to ensure that the new ETTS system could take over the old system's functionality from day one.
The collaboration between Delegate and BRFkredit
Lene Haustrup Jensen says that BRFkredit have been very happy with the collaboration with Delegate, because, as she says, Delegate "is a good team mate". Delegates consultants are able to fill the "gaps" that BRFkredit can't on their own, always providing constructive feedback. 
The work on ETTS is only the first step in a long-term collaboration between Delegate and BRFkredit, and Delegate's consultants have already begun work on the next projects.
Do you want to read more about CRM, Digital Selling or Dynamics 365?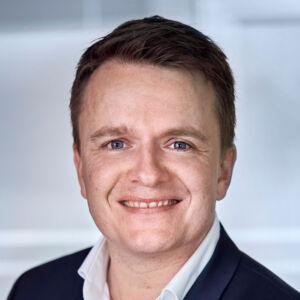 "Do you want to learn more about how we can tailor a solution for your business on Microsoft Dynamics 365? Call me on 27 51 95 54 and we'll talk about your business' needs."
– Jacob Stenderup, Director at Delegate