Clever accelerates business development and growth with sustainable mobility
Clever accelerates business growth with sustainable mobility
Clever is the largest network operator in Denmark for EV charge boxes. They were looking for business development. Both in respect of private and public boxes. Further, they experience exponential growth, which puts some serious demands on their backend systems. This combined with the fact that the EV industry is quite immature with less than optimal communication protocols, flaky charge box firmware implementations, and occasionally bad connections, all resulting in very low data quality, made it a challenge that we just couldn't walk away from. So being asked if we wanted to build a complete new CPMS (backend system) for Clever our only question was; "Do we start Monday?"
Combining the above with the fact, that Clever wants to not only build the right thing, but also has an extremely care for quality, have allowed us to build it right and put us in a position, where we have built a scalable and secure system, which is also highly stable, maintainable and flexible for further extensions and integrations.
It really is and has been a treat to work together with Clever on the endeavors in an extremely interesting area.
Clever's expansive network of user-centered charging stations—along highways and in cities, shopping centers, workplaces, and homes—is not only simplifying EV adoption in Denmark but also optimizing how and when energy is used. Together with Delegate and other strategic partners, Clever is leveraging intelligent Microsoft technology to help balance the Danish power grid, sustain business growth, and improve customers' lives.
E-mobility is on the rise

In Denmark, EVs and initiatives to accelerate their adoption are gaining traction. (Statista, 2020) According to Clever CIO, Jonas Thomsen, the user profile is expanding beyond the earliest adopters: tech-obsessed engineers. "More consumers want to be a part of a greener movement," says Thomsen. "They don't care about the data. They just want to make sure cars are better for the world."
Along with plug-in hybrid vehicles (PHEVs), EVs comprise 75,000 (Statistics Denmark, 2021) of the 2.6 million vehicles (Danish Electric Car Alliance, 2021) currently on the road in Denmark. They don't require finite natural resources for fuel. And depending on their upstream power sources, they emit considerably less carbon and fewer greenhouse gases than their conventional counterparts. So, the Danish government is pushing for a tenfold increase of EVs and PHEVs in their country over the next nine years. But Thomsen and other Clever leaders are more optimistic. They believe this number will exceed 1 million EVs and PHEVs, and they're investing in partnerships and scaling technology now to support this growth.
Clever's on a mission to increase energy consumption
"It's in our DNA to make the transition from fossil fuels into sustainable energy," shares Clever Head of Communications and Public Affairs, Henrik Skyggebjerg. But as counterintuitive as it may seem, the company is working diligently to increase energy consumption. "We're not trying to reduce energy consumption—not at all. Because we want to move cars from fossil fuels to electric. By that, we increase the use of electricity. But we're using it smarter and greener."
– Jonas Thomsen, Chief Information Officer at Clever
With intelligent technology, Clever will soon begin to optimize the consumption of energy generated from wind turbines at night to power EVs by day. And with the Clever app, the company hopes to reinforce more sustainable behavior. Currently, users can see when demand on the energy grid is lowest. And unless they opt otherwise, charging occurs overnight, when there's an average of 40% more sustainable energy in the power mix. (Energinet, 2021) In further app developments, users will also gain insights and visibility into the CO2 reductions afforded by this peak shaving.
Clever is also working on Smart Grid technology to leverage one of the EVs major advantages over wind power: its battery, which the company—with customer permission—will be able to predictably charge to balance energy consumption. "To save the power grids, you must have balance," explains Thomsen. "You cannot consume more electricity than you produce. And you cannot put in more power than you consume, otherwise the network breaks down."
As EVs become more ubiquitous in Denmark, energy consumption will rise. But with intelligence baked into everyday charging, EVs can help to balance the grid. Based on analysis from industry organization, Danish Energy, Clever estimates this will save Danish power consumers 16 billion DKK, the equivalent of $2.5 billion USD. (Danish Energy, 2019)
Typically, cars afford more than just a means of transportation; they offer a measure of freedom. But for some, EVs evoke a perceived lack of freedom. One of the first questions prospective buyers ask is, "Where can I charge my car?" And one of the main reasons they decide not to purchase is a lack of charging infrastructure. (McKinsey, 2018)
So, through their growing charging-point network, Clever is working to increase greener energy consumption. Additionally, they're breaking down barriers to EV adoption through co-sell partnerships with EV dealers across Denmark. And the company is growing—fast. Each month, Clever installs thousands of chargers at homes and workplaces and manages over 400,000 charging sessions.
Business growth illuminates scalability concerns
To traverse Denmark, many EV customers depend on Clever's transnational charging-point network. So, between 2016 and 2018, Clever acquired and began development of a charging-point management system, CPMS, designed to handle 200,000 charging points. At the time, the young company was developing their own systems to save on costs. They struggled to find the right customer data when they needed it. As Thomsen describes, their cumbersome systems were based on unscalable code and services in Azure. "Two or three years ago, we had a problem handling 40 customers per week. We were about to die based on that number. But we're beyond that by far now."
– Jonas Thomsen, Chief Information Officer at Clever
Today, over 1,700 public charging points span Denmark and Scandinavia, and Clever is on track to almost double them by the end of the year. As their growth trajectory continues, network stability is non-negotiable. Charging-point management must be both intelligent and seamless. But their old CPMS system, which currently manages only 25,000 charging points, already needs and is undergoing extensive upgrades.
"If we promise our EV customers that they can freely go wherever they want to go, we can't have networks that are failing," Thomsen says. "We need to be able to maintain insights as we scale."
"It all comes down to trust," adds Skyggebjerg. "Electric vehicles are a new technology, so we need to reduce the friction and complexity and build trust with our customers. That comes back to a stable, scalable, dynamic platform."
Clever meets business demand with strategic partner and intelligent IT
Clever needed a real partner to help them replace failing systems, optimize services, and automate their time-intensive processes to ensure business development. So, after working with consultants and suppliers for years, they hired Delegate—Denmark's 2021 Microsoft Partner of the Year.
"We're not wasting a lot of hours discussing hours," Thomsen chuckles, "we're spending the time developing cool software instead." Together—leveraging a mix of Azure solutions—Clever and Delegate have begun custom development of a new CPMS.
"We already used Microsoft technologies, so Azure was the natural step," Thomsen continues. "It gives a lot of natural integrations to all the standard applications, like Office 365, Dynamics 365, and Business Central. [They] just fit together." Additionally, the cloud-based technology aligns to Clever's sustainability mission. By 2025, Azure will be powered entirely by renewable energy. And according to a 2018 study, moving on-premises workloads to the Microsoft cloud can be up to 93 percent more energy efficient. (Microsoft, 2020)
Leveraging Azure technologies, Delegate provided a framework to connect IoT sensors to each charging station to deliver data insights for software deployments. This has reduced the time required to fix installations by 20%. And more important to Thomsen, users aren't affected by software updates, which Clever deploys multiple times each day. With Data Lake, Clever now stores and can easily retrieve charging-point data for reporting, reimbursements, and charging transactions. "All the stuff that was really hard and time consuming before is much easier now with Data Lake," Thomsen shares.
Finally, Clever now has three front servers running in App Service for charging-point communication. Since each server can handle 10,000 charging-points, Clever's acute scalability concerns have diminished. "If we need more," Thomsen says, "we'll just add more."
Scaled IT reduces activation times from 50 minutes to one
With its investments in strategic partnerships and technology, Clever has minimized errors, interruptions, and inefficiencies. They've also accelerated business growth.
Since 2017, Clever's annual revenue has increased by more than 700%. And with just over two times the personnel, they have nearly seven times more customers today than they did a year ago. The number of new customers during the entire month of March 2020 equaled the number of new customers in one day during March 2021.
Skyggebjerg recalls that "in late 2018, one B2B customer took approximately 50 minutes to process and activate. Today, the same task takes about a minute, which is a huge reduction!"
Delegate Director, Morten Frisch contends that IT is the backbone of Clever's scalability. "You can only sustain this kind of growth by either hiring a gazillion people or scaling out on the IT. And Clever isn't hiring 700% more people," says Frisch. Instead, with Delegate's help and their deliberate selection and use of synergistic Microsoft technologies, Clever can support this growth and scale on-demand to ensure business development.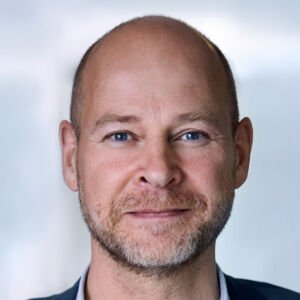 "Scaling out isn't just about Azure. It's about looking into the whole Microsoft stack and making the smoothest transition of information across all the platforms."
– Morten Fritsch, Director at Clever
As the Clever team continues to grow and scale their business, they're driving sustainable mobility forward with their customers top of mind. They believe the future is bright, and both Skyggebjerg and Thomsen agree, "Everything we do, we do for humans."
"If you just focus on delivering charging points and delivering electricity, then you forget the human part," says Thomsen. "The electricity is not the human part. The charging-point technology is not the human part. The intelligence of figuring out how to use it is the human part."
With their intelligent charging infrastructure and business development, Clever hopes to build a better, more sustainable future for the world and its citizens. "We will never use technology just to use it. We use technology to make a difference in people's lives every day."
– Henrik Skyggebjerg, Head of Communications and Public Affairs at Clever