A Cloud Project should always Support the Strategy
You company strategy is crucial for how you should approach a cloud project. That's why we always start there.
Your Azure cloud project must be based on best practice
The organizational anchoring of an Azure cloud project is of great importance to the goals and how to set the project in motion. We are happy to share "best practice" experiences from different customer situations and advise you on how your company can best execute on a vision or project while supporting a strategic goal anchored in the organization.
At Delegate, we are specialists in business cases and analysis, as well as design and implementation of Cloud solutions based on Azure. We have the necessary expertise to build robust and scalable solutions from start to finish on the platform.
Often the process starts with basic governance and preparation of environments, so you get a foundation on which future solutions can be built. It creates a uniform and streamlined process for the projects, and security is ensured from the very start.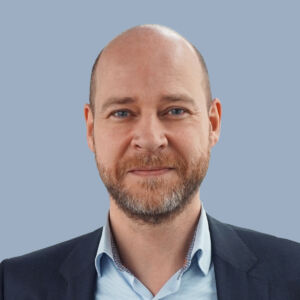 "Get started with your Cloud project on Microsoft Azure. Please give me a call on +45 53 53 69 59, and we will create a plan together for how you can meet your company's strategy with Cloud."
– Morten Fritsch, Director at Delegate

Cloud is a step towards digitalization and transformation

The common denominator for our Azure Cloud customers is that they have a strategic focus on digitalization and transformation towards a more data-driven business. Cloud projects are a catalyst to achieve strategic goals more quickly or leverage to create transformation.
There are many good reasons to kick-start your cloud project, but it could be difficult to find the right pace and an approach that creates lasting value and real organizational development, so the individual cloud projects support vision and strategy.
At Delegate, we offer cloud advisoring at different levels. Our services are always grounded in a pragmatic approach, where we make it tangible and concrete with:
Customer Journey
Data driven business potential
Value stream and Business Value mapping
Process optimization and digitalization
Organizational capabilities and strategic anchoring (capability model)
Business case
Strategy and portfolio management
RoadMap for digitalization and applications
Governance and "toolbox" for digitalization
Agile processes lead you to the right result
We develop new applications with a focus on efficiently and quickly creating a "minimum" solution, aka. MVP. This is because the application and requirements often evolve during the process, as everyone gets smarter. Our agile process helps support this tendency, and it is the reason why we touch base every two weeks to align and coordinate the direction and results with you.
Creating robust solutions that make optimal use of Azure is not necessarily easy. The platform is large and offers many ways solve the same problem. That is why we are ready to guide you all the way to the finish line with your cloud project on Azure.