Grow your Company with Digital Business Development
When growth is your goal, you need a plan for developing your business digitally.
Digital Business Development
An open mind and an objective approach to the path towards growth
This is the first and perhaps the biggest challenge many companies face when talking digital business development. Our experience is that it can be difficult to look at your own business objectively. We have consultants with extensive and broad experience when it comes to digital business development.
Maybe you are stuck with the belief that your company belongs to a certain sector, industry, or region. Or you may be limited due to your current IT setup, your habits, or your current business model. Your company's potential is obvious, but the challenge is to find the most optimal solution for you. Often the path to success is not straight, and it takes courage to look in other directions.
At Delegate, we offer advice about business development and digitalization strategies. We bring an open mind and look objectively at your business opportunities with an eye for IT and a toolbox full of experience and expertise.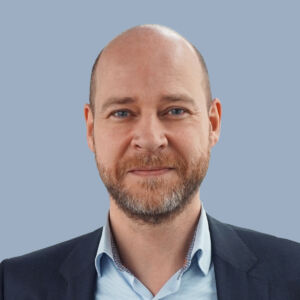 "We have done it many times before, and we would love to do it again. Please give me a call on +45 53 53 69 59 if you need guidance on how we can develop your business together through digitalization."
– Morten Fritsch, Director at Delegate
Digitization: The smart way

Our approach to digital transformation is based on your original idea and utilization of today's technological opportunities.
When we advise on business development, we always look for unique opportunities within your company. We give you a chance to explore the outcomes and perspectives of different scenarios, and the first step is always to use your current strategies as a starting point. By doing so, we ensure that we can develop a strategy together with you for your specific needs.
We base the entire process on your company's current strategy and look at alternative options for digital business development based on the business you run today. Together, we examine which tools work, how digital strategies can be implemented, and which features you need to boost each aspect of the plan.
Our recommendations are always based on your insights and in-depth knowledge of your customers, competition, and market conditions.
In other words, your company and your industry.
We will challenge you and use specific data, your insights, and our experience to come up with the best digitalization plan for developing your business in both the short and the long term.
Business development is often driven by theory. Data and IoT help demonstrating the real potential, and, thereby, providing you with a very tangible overview of the possibilities.
Not only do we help you to get started – we also help you to reach your goals

Technology is the driving force behind all digitalization. Your company's success, future competitiveness, and efficiency depend on your willingness and ability to develop digitally.
But you do not have to face the challenges alone!
One of Delegate's trademarks is that we are very versatile. We have a professional and strong team of IT consultants who are solution-oriented and who can help you with most of technological challenges you will encounter in connection with a digitalization project.
When we work with digitalization, we often use a data collection strategy. This strategy can be developed when the specific business goals have been defined. We then convert business goals into an IT strategy, which includes a data collection strategy, a cloud strategy, an application strategy, or any combination of those, to ensure that everyone works towards the same goal.
In short, we can bridge the gap between innovation in your business and the many technological opportunities. In this way, we help with strategy and the digital business basis from the first investigative prods and all the way to implementation. This provides reassurance and results which can been seen in the bottom line.