Build a Solid Foundation with Dynamics 365
One unified system for sales, projects, marketing, service, and reporting.
Lift your business-critical systems to new heights
Dynamics 365 gives you access to Microsoft's ambitious cloud platform, which gathers all your data and business-critical solutions in the cloud. This way you can easily take advantage of the latest and greatest digital opportunities and solutions that ultimately streamline your entire business value chain.
Microsoft Dynamics 365 allows you to harness the full potential of your organization using a common data model that connects customers, products, people, operations, and more.
And with the ability to constantly customize and adjust Dynamics 365 via apps and extensions, you can continuously optimize your work. At the same time, there is a minimal risk of losing data and adjustments in connection with an update. Furthermore, the update is a wholly uncomplicated affair that can be done easily without affecting your system.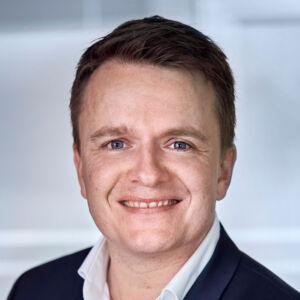 "Let me help you identify the needs for Dynamics 365 in your business. You are welcome to contact me on +45 27 51 95 54. Together we will find the right solution for your company."
– Jacob Stenderup, Director at Delegate
You can easily select features as needed

One of the reasons why Dynamics 365 is a great solution is that it is easy to adapt it to your needs, even though they may change over time.
In the past, unique adaptations have been necessary, which are both expensive and cumbersome to maintain. Microsoft Dynamics 365 is built with apps and extensions, so you can create exactly the Dynamics environment you need. This means that new solutions can be switched on and off as needed, as you already know it from apps on smartphones and tablets.
Among others, you can get these solutions with Microsoft Dynamics 365:
Dynamics 365 CRM
Dynamics 365 for Field Service
Microsoft Relationship Sales
Microsoft Marketing module
Customer Insights
Customer Portal
From needs analysis to successful implementation
At Delegate, we are experts in the above areas and have, through our many years of experience, developed a methodology for implementation, which ensures better coverage of actual business needs. The model helps us, and our customers, clarify business requirements, maturity, and the steps the organization and solution must go through to achieve the goals and value expected of Dynamics 365.
Our methodology makes sure our customers experience a successful implementation, be this online, on-premises, or a migration to online. With more than 30 consultants in the field, we can ensure a stable and secure delivery.
Delegate also has extensive experience in connecting Dynamics 365 with other applications such as Office 365, Artificial Intelligence, Power BI, Power Apps, ERP systems, and more. So, if you face a complex business challenge and you need advice on how to best reach your goals, Delegate is a safe choice.