Get an online platform where meeting virtually feels like the real thing.
The public space becomes virtual
In a time where meeting in public spaces is not an option, online tools like Microsoft Teams are the perfect solution.
In order to live up to both legal and practical requirements for hosting a general meeting, we have developed a process to ensure that your general meeting can be held online.
We make sure that your speakers and contributors can deliver material and messages online
We ensure that polls are conducted safely and correctly
And we make sure that all participants can actually participate
In other words, help is available if you need to switch from a physical to a virtual general meeting, but, still, you want to make sure it is a good experience for everyone involved.
With Microsoft Teams, you do not lose productivity. You can host meetings, use the chat feature, and share your documents in a community, and you only need a single platform.
Erhverv Norddanmark were among the first to schedule a virtual general meeting: "According to the current statutes, the Annual General Meeting must be held before the end of March. Over the last couple of days, we have been working hard together with the IT company Delegate in order to establish a digital platform that will fit our specific purpose." – Kurt Bennetsen, Erhverv Norddanmark.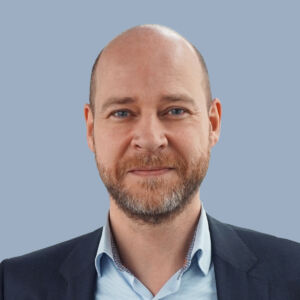 "Do you need to move your general meetings into the virtual space? Please give me a call on +45 53 53 69 59, and we will make sure to get you started quickly on an online platform."
– Morten Fritsch, Director at Delegate
Bespoke package for general meetings

Get started quickly with our FromHome package. This package ensures proper hosting of large meetings and general meetings held online, incl. guidelines, consulting, and technical assistance.
The package contains:
Check of current Offie365 setup (This solution requires E3 licenses*)
Online advice on how the meeting could be hosted
Review and testing of meeting together with, for example, board members hosting the meeting
Voting module
Price: DKK 23,000 plus VAT.
With Delegate's voting module, you can hold general meetings and manage the votes.
The voting module is flexible and can contain all the questions you need. It is also possible to adapt and make additions during the meeting.
Among the many features, the voting module contains:
Voting module
Creating ballots
Possibility to have multiple questions on one ballot
Specifying the maximum number of answers for a question
Adding and editing questions and options during the meeting
Enabling and disabling a poll
Voting results
Follow voting results on an ongoing basis
See percentagewise distribution in relation to the number of ballots
Detailed overview for use in documentation for the vote
Voting results can be showed in Excel for documentation and audit
Ballots for all participants
Unique ballot
Entering contact information
Answers to questions
Reloading the ballot, in case the voting is adjusted during the meeting
Possibility for weighted votes