The Danish Society of Engineers (IDA) migrated to one portal
IDA merged the organization's three outward-looking portals into one big new one – the new solution was implemented in Microsoft Azure cloud.
Helped safely towards the azure cloud
The Danish Society of Engineers, IDA, has a very clear vision: To realize the potential in technology and knowledge. This is naturally reflected in the organization's IT solutions, and IDA's desire to move business-critical solutions into the Azure cloud.
One of the major cloud projects that IDA has embarked on in 2018 is the unification of the organization's 3 outward-facing portals into a large and new IDA.dk. The new solution will, as the most natural choice for IDA, be implemented in Microsoft Azure.
Get off to a good start with Delegate's Azure foundation
IDA realized that they needed sparring in the form of an advisory resource that could help them get off to a good start. "We had very little experience in Azure and knew we needed advice. Actually, we had imagined that we "just" needed a man who could work with us, so we got to set it all up sensibly, but we got wiser. Delegates' great insight into the platform showed that we needed to start out form a more basic point," says Bjørn Borup, CIO at IDA.
And that was exactly what IDA did. They did not throw themselves recklessly into implementing the new IDA.dk in Azure. Instead they chose to start their journey in the cloud with a basic Azure Foundation course.
"Delegate helped us along the way with really competent advice that gave us both insight and understanding, but which to that extent also challenged us on our assumptions. We could possibly have started our journey in the cloud without the Azure Foundation, BUT I have no doubt at all that the whole process with Delegate has helped us get started faster and will keep showing its value far into the future," says Bjørn Borup.
The Delegate Azure Foundation has a very clear purpose: To ensure a sustainable plan for how a given organization or company comes safely and structured in the cloud without compromising governance, cost management, structure, processes and competencies.
With the Azure Foundation, IDA thus built a foundation and laid out a long-term plan for the organization's future Azure solutions. IDA received, among other things:
A review of their processes and structure
A workshop that went all the way around the IT business and considered the input of all employees
Clear recommendations for the organization's future structure and work in Azure, based on conclusions from the workshop process and Delegates' best practice experience with the platform
Advice in relation to optimal use of the platform and resources
A course of significance for the future
IDA has welcomed the report with recommendations. A report that has been created on the basis of the workshops Delegate facilitated. "Now we're ready for Azure! Delegate has delivered a focus point, so that we can now draw up a clear and workable plan that ensures that we comply with governance and maintain business-critical guidelines on a completely new platform. Everything is well thought out, and we know which way we must go to get off to a good start," says Bjørn Borup and continues:
"The process has not only given us a clear plan for how to build our Azure solutions in accordance with IDA's general governance, which was one of our focus areas. It has also shown us that we can work more efficiently by implementing DevOps to get the most out of our resources. It has dawned on us that we have an IT development department and an IT operations department that can work even better together. Our needs are, in fact, of a different culture and mindset, which we are now working to implement."
The association is now completely ready for the next step on the journey. They have clear recommendations, which IDA itself has helped to formulate through the Azure Foundation, and a new IDA.dk in the cloud is well on its way to IDA's 110.000 members.
Do you want to read more about Cloud Advisory, Process Optimization or Azure?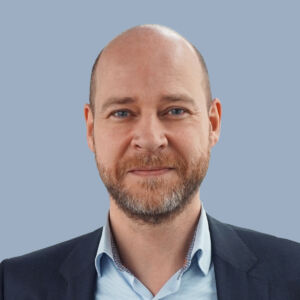 "Do you want to hear more about Delegate Azure Foundaton and what it takes to succeed in the leap from an on-premise solution to the Cloud? We can help you all the way from the first strategic advice to the practical migration. Call me on +45 53 53 69 59 and we can talk about where you are today and what your needs are"
– Morten Fritsch, Director at Delegate