Kemp & Lauritzen got a user-friendly intranet
They went for a Cloud-based intranet with standard modules that are constantly updated with the latest functionalities – and they got it.
New standard intranet built without 3rd party solutions
Kemp and Lauritzen have launched their new standard Intranet based on Office 365 / SharePoint Online and built without the use of 3rd party solutions.
Kemp & Lauritzen had the same challenge as many other organizations: They struggled with an older and outdated intranet that did not benefit internal communication. It was difficult to maintain and even harder to update.
The choice of a standard intranet that does not become obsolete, but is constantly updated with the latest functionalities, follows Kemp and Lauritzen's overall strategy of choosing cloud and standard over more complex and customized alternatives.
Standard was a strategic choice
In recent years, Microsoft has made all their platforms independent of 3rd party solutions, and with SharePoint Online they have created a fantastic standard intranet with a wide range of features that create the framework for good internal communication and collaboration. Kemp & Lauritzen recognize this within their choice to change their intranet.
"For us, it was quite obvious that we should have a standard intranet. First, an intranet on SharePoint Online is an integral part of our existing system landscape, and when we choose an "As a Service" platform, it is based on a desire to have the latest technologies and functionalities available. It provides a completely different security, and makes future work easier. Our experience is also that specially developed solutions become really expensive in the long run, so there was no doubt about which way we should go," says Mark Stenstrup, Kemp & Lauritzen.
The value in a new type of intranet

An Office 365 intranet comes with a wide range of online tools that complete the intranet experience.
Some of the benefits that Kemp & Lauritzen enjoys includes:
SharePoint Online is user-friendly and easy to work with as an editor.
SharePoint Online is born responsive. Ie. that without extra effort, K&L got a solution that the technicians can use on their mobiles and tablets.
Strong news module with the possibility for users to comment and "like".
Improved search and simplified structure make it easier for users to retrieve information.
The overall value, however, is that Kemp & Lauritzen with their standard SharePoint intranet has an intranet that is constantly alive, under development and updated.
"The new platform is a huge boost. Visually, it is delicious, and it is easy to manage and customize, so we can provide the right visual experience, and continuously ensure updated content without it being hard to do and time consuming. In fact, getting started has been pretty straightforward. The user platform is intuitive and easy to find, so we have been able to throw ourselves into it without a greater introduction, " says Kia Led Odgaard, Kemp & Lauritzen.
Precisely the fact that the Intranet will in the future always be updated and not obsolete was a very basic parameter in the decision. The advantage of SharePoint Online and the whole of Office 365 is frequent updates, which are immediately available to the users without Kemp & Lauritzen having to spend a lot of resources and think about maintenance costs.
Easy to get started – fast to finish
Kemp & Lauritzen's new intranet has been characterized by a simple and fast process, where Delegate has worked closely with the communications department, which has been the driving force behind the project.
The result is an easily customized standard solution that provides great and immediate value.
In total, the entire intranet project took 3 months. The very simple standard solution, which could have worked without any kind of adjustments, was ready within 1 month.
Although Microsoft has come a long way with SharePoint Online, there were two features that Kemp & Lauritzen wanted that are not found in the platform: Overview of IT operational status and anniversaries. But SharePoint Online provides ample opportunity to expand with special functionality, so the standard version was spiced up with Power Apps, so that anniversaries and IT operational status became an integral part of the solution.
"The process with Delegate as sparring partner has been really good. We have had a close dialogue with Jakob Hemmingsen (Delegate), who has been easy to understand and easy to communicate with throughout the process. Jakob has been good at helping us past the challenges we have encountered along the way because the combination of our very specific wish list and a standard intranet has not been 100% compatible. In hindsight, these have been really small things, but when you go the standard route, you have to be aware that you cannot "just" add elements, and therefore have to be ready to compromise a bit," says Kia Led Odgaard, Kemp & Lauritzen
Good advice for anyone considering a standard intranet
A standard intranet is inherently created for the most common usage scenarios. Office 365 and SharePoint Online are no exception – it's designed to fit most organizations and can be expanded if more functionality is needed.
But before embarking on customizations, it is important to remember that SharePoint Online is constantly evolving. New features, new options and small customizations are constantly helping to make the intranet better for both editors and users.
However, this means that all updates can affect the adjustments you have made. The trick is not to develop something that violates Microsoft standards and therefore can make it difficult to handle ongoing updates.
One learning from Kemp & Lauritzen is actually that the updates are so frequent that one of the features they got developed as an extension was added by default before they had been on the air for 14 days.
Prior to the project, Kemp & Lauritzen had given the project a lot of thought and developed a prototype on which the Intranet was to be based on. A number of functions had therefore been considered in the project. The vast majority were supported by SharePoint Online, but when you go towards "standard", it requires openness and flexibility, as the standard sets some limitations that you do not come upon if you run with a custom built soultion.
"A standard intranet is naturally created to suit the many. What we have experienced is that it also suits us. We can see that today, even though we initially thought we needed adjustments because our wish list and project plan went a little beyond what we could do with the standard solution. Because we had a very clear idea of what our new intranet should be able to do, before we actually clarified what we could do on the new platform, it dragged out our project, and therefore it took longer than planned. Perhaps my best advice is therefore to be aware of the options available to you and plan the underlying conditions and content accordingly. That way, you can very quickly be up and running with a new intranet, and save yourself a lot of wasted work and unnecessary worries about very specific wishes that cannot be realized, " says Kia Led Odgaard, Kemp & Lauritzen.
To get Kemp & Lauritzen off to a good start, a part of Delegate's task therefore consisted of advising and sparring about:
What is good intranet usage.
What they should consider to get an intranet that facilitates collaboration.
Which functions were really needed and which were just out of habit.
What it could have of consequences with different adjustments.
Do you want to read more about Strategic Consultancy, Customer 360, Digital Selling, Microsoft 365 (O365), Dynamics 365 or Sharepoint?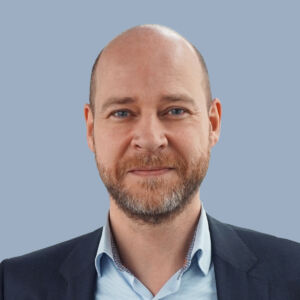 "Do you want to hear more about the benefits of an intranet based on standard modules in the cloud? Call me on +45 53 53 69 59 and we will talk about where you are today and what your needs are."
– Morten Fritsch, Director at Delegate