Kemp & Lauritzen got a digitalized planning solution and resource optimization for their field technicians with Microsoft Dynamics 365 Field Service
Microsoft Dynamics 365 Field Service
The leading engineering company, Kemp & Lauritzen, with field technicians across Denmark, were looking for a digitalized planning solution. They wanted this solution to simplify and optimise their processes as well as the interaction between task managers and field technicians. At the same time, they would like to have a tool for resource optimisation. In their continued efforts to deliver bespoke services across disciplines, Delegate became more than just a vendor for Kemp & Lauritzen.
Digitalized planning and replacement of manual workflows
Kemp & Lauritzen deliver solutions across a wide range of disciplines such as Electricity, HVAC, Refrigeration and Ventilation with a focus on delivering a high level of multidisciplinary service that makes it easier to be a customer with them. That is why Kemp & Lauritzen wanted to move to a new platform to digitalize the planning solution.
"For us, Delegate has been more than just a vendor. With their flexible approach, Delegate have taken responsibility and been a sounding board in understanding and mapping Kemp & Lauritzen's workflows and secured support and progress in the project. " Steen Nielsen, CIO / IT Manager, Kemp & Lauritzen
Delegate have delivered a solution that helps Kemp & Lauritzen to optimize the service workflow from A-Z and, moving forward, solve more planning tasks smarter based on Microsoft Dynamics 365 Field Service. Task managers are in control from the start, where they can create work orders or have the system create them automatically through service agreements from which the frequency of a service is controlled. Flexibility in scheduling or self-management for technicians was particularly important in the design of the solution.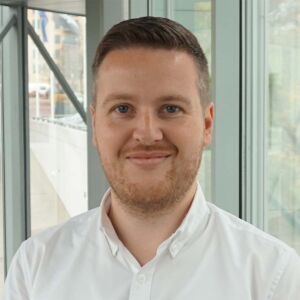 "Are you interested in hearing more about our solution for Kemp & Lauritzen, or do you think the solution could be useful for you too? You are more than welcome to reach out to me, so we can have a non-binding chat about your options."
– Jimmi Henvig, Principal Consultant at Delegate
From handheld WPA to Resco app on Microsoft Surface Go for over 800 users – and more on the way
It requires a good overview to navigate in a landscape characterized by many professional disciplines and customer promises on different scales, while always having an eye for the best solution possible.
Kemp & Lauritzen's previous setup involved handheld scanners with many manual and analogue steps. With the new Field Service solution, and the Resco app on Microsoft Surface Go devices, technicians get an optimized workflow with a vastly reduced number of steps. With the Resco app, Kemp & Lauritzen get a flexibility in everyday life and a future-proof digital setup building on Microsoft's ideology of no-code-low-code platforms. This technical solution is sustainable due to:
Flexibility in UI and logics
Stronger offline and visual control – so the field technician can act on any circumstances
Focus on reporting and quality assurance
With the Resco app, Kemp & Lauritzen's technicians have access to more information in one place, and this makes their working days much more efficient. More specifically, the technicians at the place of service execution can access and complete their work orders through the Resco app, including viewing and adding information about the customer's facilities, registering products used for the task, registering hours and adding and filling in the necessary legal forms, which may be required in connection with installations, and, thus, supporting the company's compliance with applicable legislation.
Integrated solution between Microsoft Field Service and Azure Active Directory – with a pinch of Power BI
As part of Kemp & Lauritzen's Field Service solution, Delegate have also developed a messaging service on the cloud computing platform Microsoft Azure to ensure the integration between Field Service, Navision, and Azure Active Directory. This centralizes and controls user creation, role management and billing foundation, to mention just a few of the benefits. Over time, a Power BI solution will also be integrated to ensure clear, interactive, and action-oriented reporting across the system landscape.
Specifically, Kemp & Lauritzen now have an optimized service process and resource optimization from A-Z, and, eventually, they will be able to solve more scheduling tasks smarter in the interaction between task managers and technicians built on Microsoft Dynamics 365 Field Service:
"The collaboration with Delegate has helped us clarify the right IT strategy for us. Based on the collaboration to map basic workflows in our product and organization, we got an optimized service process and minimized our manual processes on a standard Field Service solution with standard Microsoft adaptations. " Steen Nielsen, CIO / IT Manager, Kemp & Lauritzen
Read more about our opportunities within Dynamics 365 Field Service right here.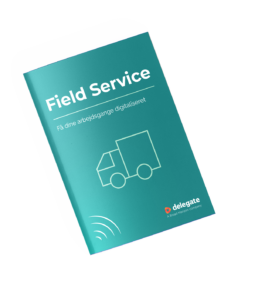 Do you want to know more about Field Service? Download our ebook and learn more about the functionalities in Field Service, and what it can do for you and your company.