Bring your Office Online with Microsoft 365
Word, Excel, PowerPoint, OneDrive, OneNote, Outlook, and SharePoint are gathered in the cloud, so you can work no matter where you are.
Why be tied down when you can roam free in the cloud?
Most employees today demand mobile solutions that make it possible to work remotely. With Microsoft 365, all employees have access to all Microsoft tools, no matter where they are. The employees who are not on-premises can now easily contribute to projects, which helps optimizing workflows.
Once everything is gathered in the cloud, you save time and can shift focus from technical challenges to organizational opportunities. In other words, you can focus on organizing yourself in the best possible way. This will limit the amount of wasted time, so you can concentrate on what you are good at. And so can your employees.
The solution comes with a lot of space—more precisely 1TB per user. This creates room for your creative employees, and the company can finally retire the old servers in the basement.
Microsoft 365 includes what we previously knew as Office 365 and covers Microsoft's complete suite of web-based tools such as Word, Excel, PowerPoint, OneDrive, OneNote, Outlook, and SharePoint. They are gathered in the cloud and can be used as needed.
Microsoft 365 is a subscription-based solution that fits all operating systems. File-sharing and collaboration becomes much easier for the benefit of the entire company.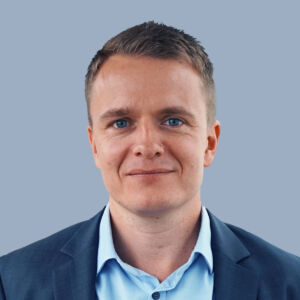 "Do you need to optimize your business with Office 365? Please give me a call on +45 27 51 95 54, and let's talk about the benefits of implementing Microsoft 365 and moving to the cloud."
– Jacob Stenderup Head of Sales & Business Development at Delegate
Security has been taken care of
Microsoft 365 meets all international and industry-specific standards and compliances. Microsoft uses the latest security with five layers and proactive monitoring, so customer data remains safe and secure.
Microsoft is one of the largest providers of cloud services, and they go to great lengths to ensure the security of your business. That is why Microsoft's cloud services (which include Microsoft 365) also have a built-in security control that makes it easy to identify and respond to any threats and security gaps. So, should something abnormal happen, you can react quickly.
At the same time, Microsoft guarantees 99.9% uptime through a service agreement with financial compensation.
Shift your focus to tasks with real value

With Microsoft 365, you no longer depend on the IT department to update software. Instead, this is completely automated, so your employees always have the latest version installed.
Users can be added and removed in minutes. Furthermore, you will experience sizeable savings on the unnecessary costs associated with the operation and maintenance of an on-premises server. With Microsoft 365 and a solution in the cloud, IT can focus on the tasks that provide real value to the business.