Palsgaard ensures it has a global overview with a shared IT-platform
The rollout of Dynamics 365 and Workpoint 365 in addition to an existing AX 2012 solution in 14 companies is to ensure a strategic overview over the business on a global level.
Global overview with a shared IT-platform
Palsgaard is an international player in the field of emulsifiers and stabilising agents in the food industry. With 14 companies in Europe, the United States, Africa and Asia, Palsgaard-in collaboration with Delegate-has rolled out a global CRM project.Additionally, the existing ERP solution, which integrates with CRM, has also been rolled out to all companies. The objective is to bind the companies together as one company through Dynamics 365 (CRM), WorkPoint 365 (document management) and the existing AX 2012 solution.
"Palsgaard has been on the international scene for a long time, but our companies have been operated as 'stand-alone' companies. The new IT platform is going to be used to bind our companies together into a single company, so that we can achieve a greater strategic overview across the entire business," says Claus Christensen, Global IT Project Manager at Palsgaard.
The Palsgaard CRM project has been far more extensive than what is typically the case for CRM solutions. Among other things, Palsgaard deals with customer complaints, product-related questions, ISO certificates, samples for customers, etc. in the CRM system. On top of this, small customer-oriented projects are also run from the CRM, while, for example, large development projects are on WorkPoint 365. When Palsgaard creates documents in the CRM system, they become archived in WorkPoint 365 which then keeps track of the documents and makes it easier to extract information from across units.
"This is very much about how we manage to share information across units. When, for example, we visit a customer in South America, our Key Account Manager for this customer can easily keep track of what reports have been made from the visit. Beyond the fact that it needs to become easier to operate in the market, it is also a strategic objective that we have a central overview of the activities across companies. This means that it becomes far easier for us to coordinate our efforts and provide good customer experiences," says Claus Christensen.
Document management via Outlook plug-in
Once a potential customer has placed an order, all master data is created in the ERP system AX. When the order is then sent , Palsgaard can with the new integrated IT platform easily search all relevant documents in WorkPoint via a plugin in Outlook. At the same time, the new IT platform also ensures knowledge-sharing across the board, so that salespeople and other employees who should be informed can quickly be updated in e.g. the CRM system.
"When we send out orders via the ERP system, we must enclose documentation in form of certificates etc. Via Outlook we can retrieve and archive documents on customers in the CRM system through WorkPoint. The documents are retrieved in an email to the customer, depending on where you are in a process. The information in the email is archived through WorkPoint on the customer, on the case and with the tags that are put on. That is, when a salesperson opens the CRM system, he can also find the information on the specific sales order here. He can do the same in WorkPoint," says Claus Christensen.
Document management and projects
Sine Palsgaard has moved up into the cloud, through Dynamics 365, Office 365 has provided the company with a portal that presents new opportunities. With WorkPoint 365, Palsgaard has initially been focused on the documents that need to be shared across units, document management in relation to the CRM system and also getting a project module up and running in WorkPoint. Palsgaard also has a library where patents, technical articles, etc. are archived. Here, the intention is to eventually use WorkPoint, since its search engine is far more advanced. At the same time, Palsgaard does not have to use folder structures at all in Share Point.
"WorkPoint provides more opportunities than we had first imagined in the original design-also those that do not require us to buy more licenses or bring in third parties to the project. As it relates to project management, we are therefore thinking that projects that are divided between CRM and WorkPoint should be merged in the long run. With development projects, it also becomes easier to share knowledge across units. Therefore, I think that we will only recognize the full value of WorkPoint when we start using it to a greater extent that we initially planned in the CRM project," says Claus Christensen.
For Palsgaard, the next phase is to enhance the quality and grow the number of users, and then in the long run, exploit the opportunities that are there so that the IT platform supports the business going forward:
"We are really happy with the solution we have made in collaboration with Delegate, and we are looking forward to seeing the value of the new platform. What we expect to see on a very high level is knowledge about whether we have enough opportunities in our pipeline to meet our future budget targets. We have no historical numbers that are good enough. We can see on an annual basis how our budgets fit-we know a relatively great deal about that when we discuss budgets being met on an annual time frame, but we do not have enough knowledge about opportunities that are more than a year away; do our sales staff have enough in their pipeline on a continuing basis for them to meet their budgets? We expect that we will have that knowledge now," says Claus Christensen.
Do you want to read more about Strategic Consultancy, Digital Bussiness Devopment, Document Management, CRM, Digital Selling, Microsoft 365 (O365), Dynamics 365 or Sharepoint?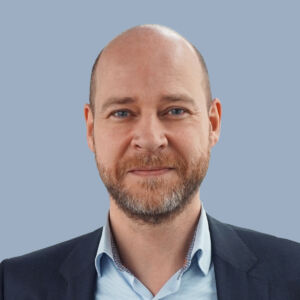 "We have helped many customers digitize processes that not only lift internal workflows, but also the customer experience. With competent consultants and skilled developers, we can help you optimize even the most difficult processes. Call me on phone 53 53 69 59, and we'll start talking about your business needs. " 
– Morten Fritsch, Director at Delegate