Power Hub for CRM – SMART Analytics
Greater success in making the right decisions based on historical data.
Access to and use of historical data provide valuable insights into how and when trends appear within a specific workflow or project. It provides business insights into specific customizable focus areas and highlights topics that might have flown under the radar without historical data. Feelings and emotions become facts, so decisions can be used for making informed decisions. Dynamics 365 does not store historical data, but this gap is bridged by Power Hub for Sales (CRM).
Dynamics 365 Power Hub for CRM helps your business gain better insight into your historical Dynamics 365 data:
Improved reporting and comparison basis
Historical data help sales see trends and forecasts
Historical data can be used to better predict "future" trends/forecasts
Examples of data: Standard Power BI dashboard of historical data from Power Hub for CRM: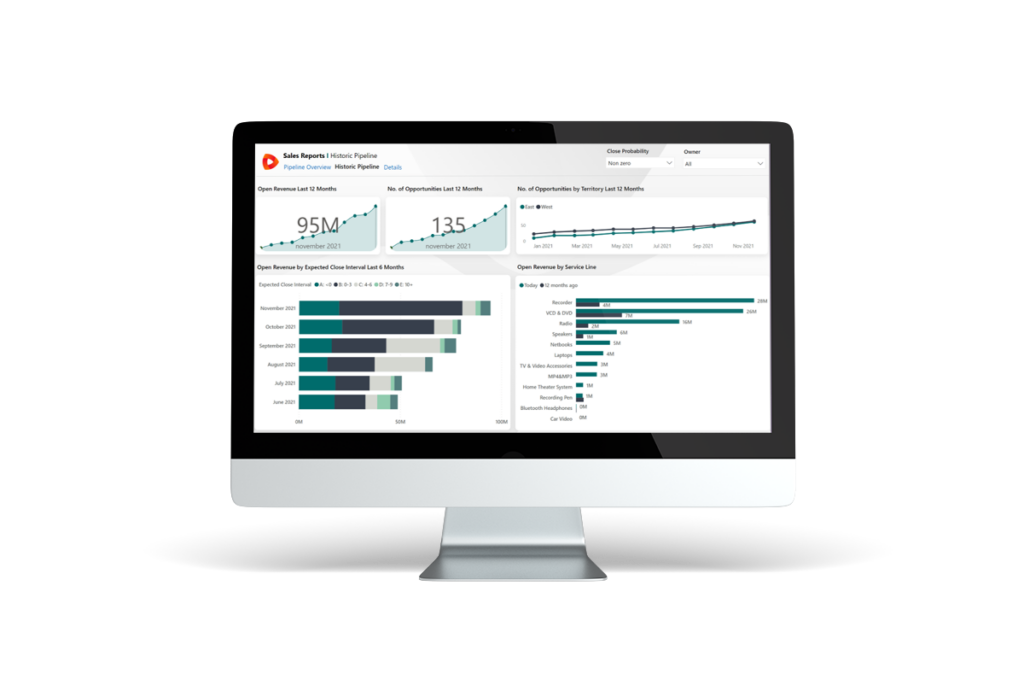 Here is how your business can use Power Hub and CRM in everyday life:
Snapshots – what does the report from last month say?
(scheduled or triggered)
Baselines – retain data to create a baseline for comparison
Highlight changes – customize your highlights for specific focus areas
Trend analysis – how have the figures evolved over time?
Pipeline – development over time on products, people, segments, etc.
Central to the Power Hub for Customer Relationship Manager is that it uses the data model and database you have already created in the company's existing Dynamics 365 solution. The Power Hub is a value-adding option that can contribute to the enrichment of data.
Microsoft Power Hub is a strategic boost delivering new opportunities to process data and draw data-based conclusions.
You are spoiled for choice with opportunities in Power Hub for CRM. We use your actual needs as our starting point.  

Delegate offer Power Hub for CRM in a basic package at a fixed price for installation and setup and a monthly fee for the software. Obviously, it is also possible to cater for specific needs. 
If you are interested in hearing more about Power Hub for CRM – SMART analytics, you can book a 30-minute non-binding online meeting with one of our specialists.