SharePoint is the Platform for Online Collaboration
A document-management platform integrated with all the Office tools you already know.
A user-friendly platform for collaboration and knowledge sharing
Today's organizations are dynamic, and the modern intranet needs to reflect the dynamism and flexibility that is in demand. SharePoint is the backbone of the modern intranet as a collaboration platform that focuses on making teamwork and knowledge-sharing as simple and user-friendly as possible.
PowerPoint presentations, meeting notes, and important e-mails are gathered and shared in one place for the benefit of all employees who have access to them.
SharePoint is integrated with all the common operating systems (Microsoft Windows, Apple iOS, Mac OSX, and Android), so even today's most zealous and picky smartphone users have nothing to complain about. Put simply, everyone can join. It gives your employees who are always out with customers the opportunity to participate on an equal footing as those who have their permanent workplace in the office.
SharePoint is also integrated with Microsoft Yammer, which is your own small version of social media—just for you. It makes it much easier to get answers to your questions on a busy day. Instead of spending a lot of time tracking down the right employee, the employee with the right answer comes to you. It makes cross-company collaboration easier and more fun.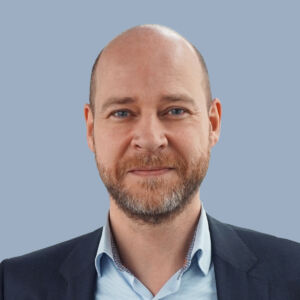 "Not two businesses are the same, and we take that into account when we create successful SharePoint solutions at Delegate. Please give me a call on +45 53 53 69 59, and together we will figure out which bricks to be use when building your company's SharePoint solution."
– Morten Fritsch, Director at Delegate
Collaboration becomes easier across projects

SharePoint can be built and adjusted according to your business needs, so you get maximum benefits without any annoying, unnecessary features. This gives employees the best conditions for starting projects and managing them on an ongoing basis while keeping an overview. In other words, it will be easier to collaborate—also across projects.
You can, for instance, create team pages, so you only need to invite the employees who are relevant to the project—and you can of course also add or remove them along the way, if need be.
At the same time, you can manage the company's everyday needs as you may know it from the classic intranet. In that way, you still have control of the staff handbook and the registrations for the summer party as well as all other documents. SharePoint makes it easy to inform the entire company at once while minimizing the reminder e-mails that otherwise clog up the inbox.
An intuitive and familiar platform

It always takes an effort to get used to new systems. But SharePoint is based on Microsoft's well-known platform, making it easy and intuitive for your employees to work on. The Office suite is integrated, creating a hassle-free way to share ideas within the organization. And if you are working on a project with external partners, they can easily be added as well. You control who has access and privileges.