STARK retains their customers by finding patterns in customer behaviour
Customer retention through Churn Prediction
STARK is a large trading company serving professional and private customers in the construction industry. They have stores all over Denmark, a web shop, a large product range and many daily purchases. STARK is a company with many data points that can tell about customer behaviour.
Every year, Stark has a turnover of billions of kroner in Denmark, spread over a large customer base with many different customer types. Every year, many new customers are added, while customers are less loyal customers.
STARK's ambition is to ensure that their customers return to the stores again and again. "Our great focus on retention is about spotting the customers who, for whatever reason, shop less, in order to be able to proactively accommodate those customers. Satisfied customers are the goal, and of course there is also a big financial aspect associated with retaining more customers."  –  Jørn Fogh, Sales Excellence Director, STARK.
So customer retention is, thus, an important focus area in STARK's strategy. The first step towards retaining customers is, of course, to see it in advance if the customer is about to leave – also known as churn prediction.
"Churn covers a decreasing or discontinued relationship with customers or members. These could be customers moving to a competitor. A customer who suddenly buys significantly less, a customer who stops subscribing to your services, or a member who opts out. Churn prediction is about predicting those events."  – Erik David Johnson, Delegate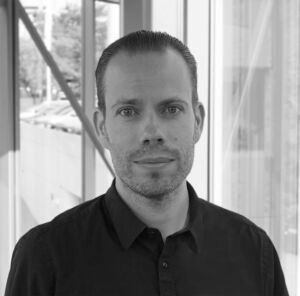 "If you are interested in hearing more about the case or the technology behind it, you are very welcome to contact me."
– Erik David Johnson, Principal AI Specialist at Delegate
How do STARK identify a customer about to leave?

Identifying a customer who is about to churn requires substantial amounts of data and strong models for data analysis. It also requires experience, knowledge, and a level expertise that very few companies have in-house.
"The collaboration with Delegate in the development of our churn prediction solution has been extremely constructive. Throughout the process, Delegate made a great effort to communicate, engage, and explain the otherwise rather complicated issues being worked on. We met some specialists, who really know their numbers, and who, at the same time, made an effort to explain what was going on to us as customers. Throughout the project, we had a clear alignment and could follow progress on the project, and the submission was also delivered in a professional manner"  – Flemming Malm, STARK
The project at STARK was based on analyses of STARK's historical data. Very simply told, the AI model was trained to be able to assess churn risk by grinding through large amounts of historical data.
But an AI model is never better than we make it. Organization of data for training the AI model behind STARK's churn prediction used more than 900 unique parameters. These are, obviously, parameters chosen in collaboration between STARK and Delegate on the basis of close sparring and a very early business alignment with STARK's management, business experts, and data controllers.
Operationalization in D365 CRM
With churn risk in D365 CRM, a company can motivate and manage the retention efforts of its employees.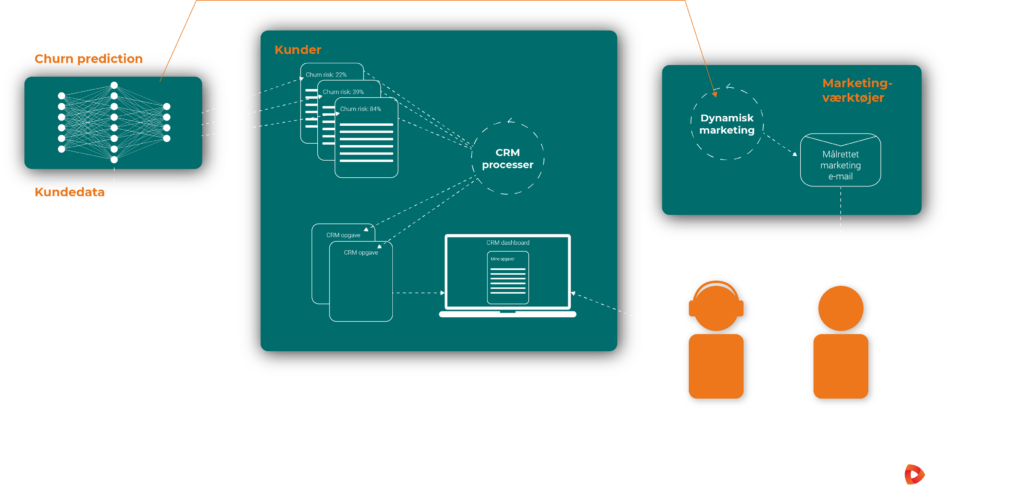 How is the new knowledge utilized in practice?
Insight must be made operational before it can create value. With the new AI-based churn solution, STARK receives an updated risk assessment of all customers every week. It allows them to direct their retention initiatives towards the customers with the highest churn risk. Or the ability to catch those customers who over time appear as having an increased risk of leaving.
Among other things, STARK utilize the opportunity to apply the churn solution directly in their Dynamics 365 solution. Here, tasks are created for the responsible employee in sales if a customer has moved into high risk in the churn analysis. Thereby, STARK can contact their customers directly to retain them with offers or simply by acknowledging them through a relevant dialogue.
STARK can also use churn risk data as input for their marketing initiatives. In practice, they can look at churn risk and its development over time and use it to segment their communications to customers through emails and ads. All follow-up processes are, of course, systematized. There will not be an employee somewhere who has to keep an eye on the analyses in a static model. The AI model itself initiates a marketing process when a customer reaches a critical point.
"The fact that we can now create an automated process targeted at the customers who do not come to our stores so often, will contribute positively to the customers' experience of being seen and, hopefully, also to our sales." – Jørn Fogh, STARK.
The value of a new data-driven approach to customer retention

By activating the large amount of data STARK holds, they have gained a new powerful weapon in the battle for customers. They quickly translate the large amount of data into behavioural patterns. In this way, they can predict when a customer, for example, is about to move their business to one of STARK's competitors.
The value of the individual customer is quite significant. All research shows that it is both easier and more profitable to hold on to your existing customers than to go out and find new ones. This knowledge meant that STARK do their utmost to succeed in minimising churn. With the help of Delegate, STARK has embarked on a data journey. Here, intelligent models and artificial intelligence have put customer retention in system and automated the processes around churn.
It is a completely new and efficient method that saves STARK's employees time, and also results in customers feeling acknowledged.
"We are very much a relationship industry, and we survive and grow by making the lives of our customers easier and better every day. That is why it is an immense help to get valid information about changes in behaviour from our customers. We can communicate to them directly and give them the attention they want – even when we do not see them in the stores every day" – Jørn Fogh, STARK.
Do you want to read more about CRM, Customer 360, Digital Selling, or Dynamics 365?