Hyped Technologies are not always the right way forward
We work with the technological tools which will ensure that you reach your strategic goals – whether the tools are in fashion or not.
The right advice on IT solutions
Delegate has helped a wide range of customers facing the challenge of lifting their strategic work through IT. We know that it is not always the most hyped or trendy technology that makes sense for your company's strategy. We can help you define which tools to implement, and how they should be combined to bring as much value as possible to your company and ensure a successful implementation of your strategy – especially in the long run.
Our services are IT solutions and consulting. Our fields of expertise are extensive, and we have a range of IT consultants with different competencies, as well as IT specialists who can crack the code for all the solutions you need.
We have comprehensive insight into the needs of different types of companies and organizations, and, most likely, we have solved challenges similar to the ones you have before. Those are just some of the benefits for you, when working with us as your IT consulting house.
With an external IT consultant, your company gets a fresh perspective on your company's IT setup. You get good and up-to-date input on your IT projects, big or small, and an external IT consultant will quickly discover your company's strengths and weaknesses, which can be difficult to see for yourself.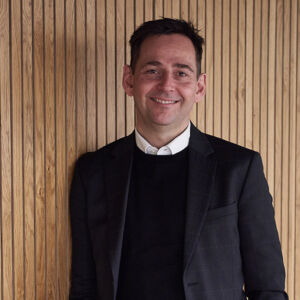 "Do you want us to help you reach your company's strategic goals? We are always ready for a challenge, and we thrive on finding solutions for even the most creative and complex strategies."
– Mads Højborg, Director at Delegate
Long-term strategy or project strategies

We know that the best results are achieved by having the proper long-term strategy. The long-term strategy largely defines the IT roadmap managing each individual, underlying IT project: Should it be built in Azure? Should it be part of Microsoft's integrated platforms? Must it be cloud?
Still, this doesn't mean you should underestimate the value of clear strategies for individual IT projects. If you (with or without the help of an IT consultant) have decided to collect all solutions under the Azure umbrella, it requires a clear Azure strategy to succeed and establish conditions that make it easy for all your employees to work within the framework of the strategy.
Whether you choose to focus on the overall strategy or begin at a lower level with a project-specific strategy, Delegate's IT consultants can contribute with experience and best practices, so you don't have to start from scratch.
Digital transformation begins with the strategy

Your company's overall strategic goals are not only important on paper. They are your compass, and they keep you on the right course. They ensure that you get the most out of the company's resources. That is why it is so important that your strategy and objectives are well thought-out and that you have considered a number of parameters:
How will you reach your goals?
Which resources do they require?
Which technologies and systems will support the journey?
Where do you start?
How do you ensure success?
How do you develop a plan that will get you to the finish line?
The answer is simple:
You can achieve all of the above with solid professional advice from an IT consultant who digs all the way down to the core of the organization. At Delegate, we call this service Strategic Consultancy. We help you understand how to achieve the company goals and what the journey should look like. And one thing is for certain: IT will be part of the journey!