We invest in talented employees
The foundation of our success is our employees, who are given space and time for personal and professional development.
When we require the best from you, we should deliver too
What's important to you in relation to your job? Professionalism and the best colleagues in the industry? Space and time for creativity and personal development? Maybe a focus on health and work-life balance?
Our cultural and organizational roots are distinctly ambitious and Scandinavian, but we always work with a focus on keeping our feet on the ground and being there for each other. We believe that the best results are achieved in the meeting between the talented, ambitious, and curious individual and the professionally strong and experienced community. And we believe that the best prerequisite for fostering successful meetings and amazing results is closeness, reciprocity, and acknowledgement.
As an employee at Delegate, you are considered a co-owner and we expect you to take responsibility for both your own as well as Delegate's development and success. Delegate is not a factory. It is an organism. And, as an organism, the company functions when all parts function by themselves as well as in mutual interaction. This means that we expect growth from each employee and encourage that Delegate is affected and developed in the interaction.
This requires a certain breed of employees and managers. Highly competent people who get even better with a team behind them. Ambitious people who never become arrogant but remain humble and curious. Dedicated and committed people with an eye for both details and the bigger picture. People who think for themselves and think with others. And, not least, people with the heart in the right place.
We know it is bold and different. That is why it is so exciting.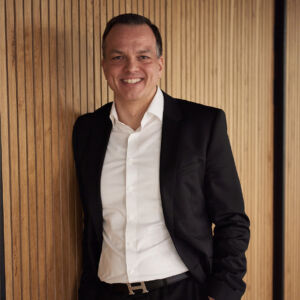 "We spend a great deal of energy on finding the right employees. So, it only makes sense to do everything we possibly can to make sure they are happy at work, so they are able to perform their best."
– Peter Østergaard, partner at Delegate
Company Fridays, work-life-balance and job satisfaction

At Delegate, we want to be close to our customers, and our solutions are not developed in the office but in the company of the individual customer. Therefore, we focus strongly on creating a framework that holds the company together through social and professional events.
This is done, for example, through our "Company Fridays", which we hold several times a year. Here, all employees meet for a whole day and share knowledge on professional topics and are updated on developments in Delegate.
Although both the professional level and the ambitions are sky-high, we have a strong focus on work-life balance at Delegate.
Many of our employees have an age where it is natural to start a family, and of course there must be room for this. That is why we have flexible working hours, and children are welcome in the office on days, where it would otherwise be difficult to find childcare. Moreover, we organize several annual events for employees and their families.
Because we cherish our employees, it is important for us to take good care of them. But it is also important that they take care of themselves.
That is why we offer healthy activities, so they can take care of their health and well-being. We have, for example, a jogging club, gym facilities, and a professional masseur.
We have participated in the Great Place to Work (GPTW) workplace survey since 2013. From 2013 to 2016 we were crowned as Denmark's Best IT workplace.
2021: 2nd place in the Best Workplace in IT Industry (DK) category, 4th place in Denmark's Best Workplace and 16th place in the Europe's Best Workplace category (2020)
The survey consists of two parts: a questionnaire for the employees and a cultural profile prepared by our People & Culture. The survey has 5 dimensions:
Credibility
Respect
Justice
Pride
Community
Every year we have benefited greatly from the feedback from the employees as well as from the work with the cultural profile. It is one of the tools used to achieve our goals: We want to create the conditions for our managers and employees to live and experience our values ​​every day –both internally and externally.
We are very proud and happy that we have been at the top of the GPTW rankings every year, both among the IT workplaces and overall. The companies participating in GPTW are all companies that have chosen to develop their workplace and who are willing to give their employees a channel to assess the company's framework, management, and culture. So being at the top is quite an achievement.