We have a place for you no matter where you are in your career.
You are studying, but ready for more responsibility
We would love to have you on board already while you are studying, because we recognize the value it gives to have talented students on the team – for them and for us.
"I am allowed to put theory into practice, and it gives me a lot in terms of my professional and my personal development. Also, I am allowed to be with the customers and get a taste of what it means to be a consultant. I quickly felt as a part of Delegate because people are open and very curious to get to know you".
Emilie Kvist Lildholdt at Delegate
You just graduated, and are ready to learn more
As an Associate Consultant at Delegate, we focus on strengthening your knowledge of the technologies we work with.
"There is a lot of room to learn as an associate consultant at Delegate. I am constantly becoming more skilled. I am involved when solutions are developed for customers, and I also increasingly find that I am given independent responsibility for tasks. But there is also room for being social with colleagues. We have, for example, both boardgame evenings and a jogging club."

Christoffer Broberg at Delegate

You have experience with at least one of our technologies
As a Consultant at Delegate, you have experience with at least one of the technologies we work with. We are very much advocate for everyone being given independent responsibility, because to us, it does not make sense to hire talented people and keep them on a leash.

"Responsibility leads to personal development, and therefore it makes very good sense that you as a consultant at Delegate get responsibility, such as advising the customer on the best solution, fairly quickly. Delegate is a fantastic workplace where both personal and professional development are paramount. Here, you acknowledge each other and celebrate the small victories of everyday life."

Sofie Ambrosius at Delegate
You have in-depth technological knowledge and contact with customer contact
As a Senior Consultant at Delegate, you have an in-depth knowledge of the technology you are responsible for. At the same time, you handle the direct contact to the customer on behalf of your team.
"I am responsible for the customer. This applies to when projects have to be estimated, when we present new solutions to the customer, and during preparation of a new solution, when we collaborate with the customer."
Tobias Skovlund Petersen at Delegate
You are responsible for the success of a customer project
As a Managing Consultant at Delegate, you are responsible for the success of our projects. This is done through close collaboration with the customer's project manager.
"I draw heavily on my experience with sales, estimation, and delivery of projects for the projects to be successful. At the same time, it is good to have leadership skills when leading a team of consultants on a project. At Delegate, focus is on the people as individuals, which helps keep a sensible balance between work and leisure, and it has meant a lot to me and my family. "
Martin Nedersee Torp at Delegate
You have solid know-how as a consultant
As Principal Consultants at Delegate, you have many years of experience as a consultant. Therefore, you have both technical insight and a deep understanding of what brings value to the business.
"I have delivery responsibility across several large projects, so I must ensure that customers' investments create value and that the projects are delivered on time. Although I have a broad range of responsibilities, Delegate gives me the opportunity to immerse myself in things that I find relevant for my personal development. At the same time, I have a very free schedule to make family life and career balance at the pace I want."
Thomas Bo Holm Nielsen at Delegate
You take full responsibility for the entire delivery
As a Solution Provider at Delegate, you are responsible for the entire delivery. You refer to the customer's Management and have a strategic overview of the project together with the customer.
"I have previously been a Senior Consultant, and it is my many years of experience in that role that has given me the insights I need as a Solution Provider at Delegate. Delegate is a cool company where we lift projects together, and that goes for students as well as top management. The leaders at Delegate are always close, and everyone is heard. We consult with each other, challenge each other, and grow wiser together every single day."
Jakob Hemmingsen at Delegate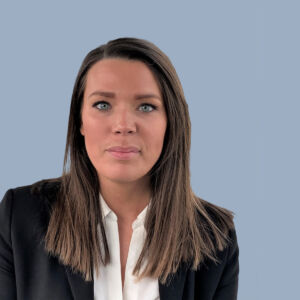 "As an employee at Delegate, you follow a career model that ensures you will receive continuous coaching and personal development. Please give me a call on +45 22 13 05 07, if you want to hear more about your potential career at Delegate."
– Lisa Dyhrberg Kjær Kristensen, Talent Acquisition Specialist at Delegate